This is the first entry in our Series on Mechanical Keyboards.
WARNING: this hobby is an expensive rabbit hole. What seems like a century ago, the end of December 2019 before everything went to shit, my cousin revealed to me his vintage IBM Model M mechanical keyboard. What's cool about this keyboard is, in part, its simple design, neutral color, and reputation for being built when "things were built better." But the main reason why this keeb remains a crowd favorite, even inspiring some independent makers to try and faithfully reproduce its classic design, is because of its buckling spring design. I stood in quiet awe and with a passive inquiry as my cousin explained to me why this old piece of reliable tech was still kickass and reliable over so many decades. IBM particularly constructed this keyboard to withstand decades of daily work and abuse. And although it was discontinued in the 80s, the supreme bucking switches (shown below) make for a one-of-a-kind typing experience.
There are several different components to keyboard switches along with several different types of switches, like linear, "clicky," or tactile. With different stems, housings, springs (varying by weight), dampening rubber/foam, the type of plates used (aluminum/brass/etc.), lubricant, and switch films, you can craft thousands of different switches, all with their own unique feel, sounds, and typing experience. They also have varying price points, with about .75 cents being on the higher end of the price spectrum.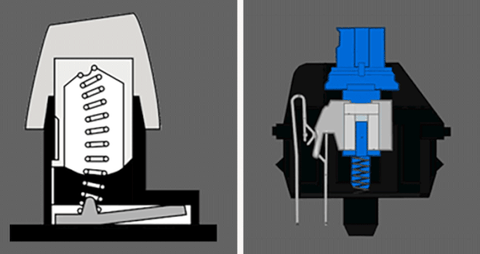 My cousin is someone on his computer often, testing the lifespan and full capabilities of several pre-built gaming keyboards from known companies like Corsair, Razer, and Logitech. He's tested the lifespan of about seven boards now. And as he explained to me why he burned a Christmas gift on this ancient relic of computing from the before time, a time before the 1990s tech boom completely revolutionized the internet, I suddenly became cognizant of the existence of a typing experience at all beyond some feint awareness that there were different sounds a keyboard could make (duh!). All I knew was that the Razer's "MX Green" switches were obnoxiously loud and that there was a certain type of switch used primarily for gaming.
Fast forward a few months later to March 2020. Excited about the prospect of graduate school, I anticipated that I would have to do more long form writing, and blogging, and develop more deliberate writing routine for practice. I began to research some pre-built mechanical keyboards after acknowledging that the the popular Cherry MX Brown switches were durable, required little force to actuate to avoid fatigue, and a pleasant typing sound. I learned that keyboards with these switches were a popular choice for writers or anyone typing for extended periods of time. I also wasn't looking for anything flashy. Just a plain and uninspiring black keyboard with a simple design. I was no longer gaming so I didn't really go for anything as flamboyant as my Corsair K65 (a ten-keyless or "TKL).
I came across several websites offering these boards, but I am the weird one to over-research a product I am likely to buy from a combination of YouTube videos and reading several reviews and finding out everything I can to make sure I'm certain I want "that" product. This is when I came across the myriad amount of switches. Hundreds of different stems, lubricant, and film and housing options to produce literally thousands of unique sounds. After a burst of energy and confidence that I could maybe keep some switches on reserve to swap out whenever the MX Browns became a stale experience, I purchased some 70 switches from Drop in collaboration with Invyr, the Holy Panda switches (below). There are other versions of these Holy Pandas, but I just chose the ones that the community overwhelmingly recommended.
These Holy Pandas have a polycarbonate top housing, halo stems, are tactile, and have a 67 gram spring. Although not the lightest, they still maintain a smooth typing experience and unmatched sound in the board I purchased. To test for future boards, and because I thought it was cute to pick up switches named after animals (which also fit a sound and weight profile I am looking for), I also purchased a small batch of Alpaca Linear's and Koala switches, which have a nylon bottom and POM stem. The Alpaca linear's sound good from my own research, and (as I've been advised in the mechanical keyboard Discord) very appropriate for an "end game" board. That is, worthy of your last-ditch expensive build to both satisfy your FOMO and allow you to take aa break from buying (even if it's not permanent).
Here's all three. Left – Koala; Right – Alpaca; Bottom – Holy Panda
And in an instant, I knew that this was going to load me into a hilarious-looking circus canon and launch me down the rabbit hole, exposing a new, niche ecosystem of custom mechanical keyboards.